Headquartered in Seattle, Washington, Amazon is the world's biggest online retailer. The company also claims regional branded sites based around the world, as well as a number of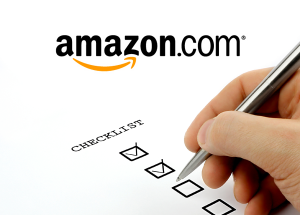 subsidiary retailers, its own consumer electronics range, and a cloud computing platform. Hundreds of thousands of retailers, from the United Kingdom to Brazil, and the United States to Germany, sell their products directly through Amazon, or use their own branded storefronts, supported by Amazon's payments and logistics services. If you plan to source your products wholesale through companies such as SaleHoo and to sell them to the public to generate a healthy profit, Amazon can offer you a vast and active international customer base, ready to consume your products.
Selling via an Amazon site has many advantages, including your ability to reach an international market and paying a commission only when you actually make a sale. If no one buys your products, you pay nothing. Amazon handles the payments, relieving you of the responsibility for credit card security and giving buyers peace of mind. The sheer number of people selling on Amazon, and the variety of goods available, means the site is the first point of call for many people shopping online. If you have a niche product, or a particularly competitive price, you can capitalise on this volume of consumers.
Setting Up Your Account
To start selling on Amazon, you need to register an account. It is free, fast and easy, and you can register online at www.amazon.co.uk. If your principal region of business is outside the UK, you should consider registering via the most relevant local domain, be that www.amazon.com, www.amazon.fr, www.amazon.co.jp, or one of the dozen or so other options.
You need to register a seller account rather than a general customer account. There are two types of seller accounts, depending on the amount of goods you expect to sell. The basic account allows you to list products in 20+ Amazon product categories with a per-item seller fee (starting at £0.75 + VAT). The pro account, designed for full-time online retailers, allows you to list products in a greater number of product categories, lets you load and track inventory in bulk, and makes you eligible to be a featured seller. The pro account charges a monthly subscription (currently £25 per month), plus a small per-item seller fee. You can cancel your subscription at any time, and it is also relatively straightforward to upgrade from a basic to a pro account.
Providing you and your products meet local market requirements, if you register on one European Amazon site, your inventory will be available on all the European marketplaces. This saves you a great deal of time and effort, as you will not have to upload products to each local domain individually. If you have a pro account, your subscription rate will be based on your home marketplace.
Linking Your Bank Account to Amazon
To pay your seller fees or pro account subscription, you will need to link your bank account to Amazon. Unless you specify otherwise, your payments from Amazon will be paid into the same account. You will need to give your bank sort code and account number: Check that the details are correct.
Conducting Product Research
What should you sell on Amazon? You have seemingly infinite choices, but SaleHoo is on hand to help you. You can browse SaleHoo's product categories for ideas and then check the viability of different products using SaleHoo's Market Research Lab. Once you have selected your product (or products), you can buy them from SaleHoo-listed suppliers, all of whom have already been verified as legitimate.
Creating Your Listings
You are now ready to add your first product listing to Amazon. Every product you want to sell on Amazon must have a unique listing. As this is your advertisement to the world, it is worth taking the time to get the wording, price, and image selection right. You are not able to alter the layout of your advert or the colour scheme: everything is fitted in to a pre-defined Amazon template. When you first start selling products on Amazon, writing the product listing may well be one of the most labour-intensive tasks you do, but it will become faster and easier once you have practised.
The most important aspects to catch a potential buyer's attention are your product title, and the image you use to sell it. Pick a title that is short and catchy but that says exactly what you are selling. Rather than saying, "Great new Dr. Dre headphones from China", advertise your product as "Beats by Dr. Dre Studio Headphones – Black". If your title matches buyers' search terms, which usually includes the make and model number, they are more likely to click on your listing in the product search results.
When it comes to pictures, you have a number of options. The manufacturer or wholesaler may well provide images that you can use for publicity and sales purposes. They are therefore suitable for brand new products, especially if you have multiple units. If not, you will need to take your own product photos. Check the category you are listing your product in: Some categories only permit one image, others will allow you to have one main image and up to eight alternative images.
You don't need a professional camera to take good photos for Amazon; a smartphone with at least 8 MP and good performance even in low light, or preferably a conventional point-and-shoot camera, will normally be good enough. There are, however, a few things you can do to improve the quality of your photography:
Photograph your item against a white or neutral background;
Make sure there is plenty of natural light;
Keep your camera steady by resting it on a table or tripod if it will stop your hand shaking;
Take several photos from each angle and only upload the best images.
If you are going to edit your photos using Adobe Photoshop or other software, you should only use it to crop the background out of the image, or re-orient it. Do not make any changes that could mislead buyers, or you could later be accused of deliberate misrepresentation.
Regarding the information you list about the product, you should express your points clearly and succinctly. Think carefully about the details the buyer will want to know. Fill in all of the product specifications, and an indication of what it is suitable for (if applicable). Be honest, and look at other similar listings for inspiration.
For some products, including books, you may have the option to add quotes from reviews (for example from magazines), or answers to customer questions. If you have these options, take advantage of them, as they can be effective selling aids.
Setting Your Delivery Options
When a buyer purchases an item on Amazon, they are given a set rate for postage. This is determined by Amazon and is linked to the type of product: the postage price for a DVD will be less than the cost for a hardback book, for example. Products sold directly by Amazon, or sold by third-party sellers who use Amazon's fulfilment service (see below) are permitted to charge lower postage rates than third parties who post their own products. If your product is exceptionally heavy or bulky, or requires special protective packaging, and therefore will cost more to deliver than the set Amazon rate for that product category, you need to factor this in when setting your product retail price. You should be competitive in your pricing, but if you are taking a loss on every unit, it will quickly destabilise your business.
Make sure that your delivery costs cover not only the postage or courier fees but also the price of the packaging materials. For small, low-value items, use an envelope or small padded envelope. For larger or more delicate items, you need bubble wrap or other protective materials in addition to a sturdy box. Buying such items wholesale (consult SaleHoo for reliable, affordable suppliers) is more cost-effective than buying them one at a time from a local store or supermarket.
If you do not have the space to hold a lot of inventory, or you are uncomfortable with overseas deliveries, you might want to consider using Fulfilment by Amazon (FBA). You can send your products in bulk to an Amazon fulfilment centre, where they will store them for you. When a customer buys your product, Amazon will pick, pack and ship the order anywhere in the European Union. The FBA service is fully integrated with your Amazon account: It works on a pay-per-use model, and there is no minimum inventory requirement. What is more, your items become eligible for Amazon's Free Super Saver Delivery and Prime 1-Day Delivery, making your products more competitive.
Managing Your Account
Once your account is up and running and you are making sales, you need to manage your account. Keep  your contact details up to date in case buyers need to contact you, and respond promptly to their queries. If you are posting the products yourself (as opposed to using Amazon's fulfilment service), make sure you dispatch them in a timely fashion.
The feedback buyers give you is an important part of the buyer-seller relationship, and the basis on which Amazon assesses your performance as a seller. The star rating and comments you receive for each transaction will be displayed for future buyers to see. As many of the reviews will refer directly to the products you are selling, they will in large part inform shoppers' decision to buy your products. You therefore need to make the buyer experience as positive as possible, and swiftly and professionally respond to any complaints.
Amazon offers you and your buyers fraud protection and an A-Z guarantee, which covers products which never arrive, arrive broken, or are not what was ordered. You are expected to attempt to resolve the situation with your buyer through the Amazon feedback system. Only once this fails should they resort to contacting Amazon. If Amazon receives a claim from your buyer, they will send you an automated message and decide how the claim should be settled. This may include reimbursement of the order value to the customer, at your expense.
Your Amazon Checklist
Sign up for Amazon
Choose your preferred Amazon seller account
Add your correct bank details to your account
Decide whether you are going to use Fulfilment by Amazon (FBA)
Research potential products on SaleHoo
Create your product listing on Amazon
Add high-quality photos of your product
Set an Accurate Price for Delivery
Be responsive to buyer feedback
Build a positive online seller reputation
Make a success of online selling!