eBay is one of the most successful online retail outlets in the world, and thousands of sellers now make their money running shops through the site. You can source your products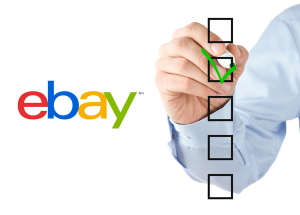 wholesale through companies such as SaleHoo, and then sell them on to the general public through eBay, generating a comfortable profit as a result.
Selling on eBay has many advantages, including reaching an international market and paying a commission only when you actually make a sale. If no one buys your product, you pay no fees. The listing fees are small, and the total fee you pay is based on a percentage of the final sale price. Every product listed on eBay is added to the site via a standardised form, giving consistency in appearance and making sure that it is easy for buyers to find what they are looking for. Buyers trust the eBay brand, and its partner payment system, PayPal, so they make purchases with confidence.
Setting Up Your Account
To start selling on eBay, you need to register an account. It is free, fast and easy, and you can register online at www.ebay.co.uk.
The first decision you will have to make is whether to register an individual or business account. If you are intending to re-sell large quantities of goods online, a business account is best because there are no restrictions on the number or value of items you sell each month. You will also be able to display your business name in addition to your eBay username. If you are unsure, register an individual account first. You can always upgrade to a business account later on. It is not possible to do the reverse.
Whichever option you choose, you will have to enter your personal contact details and choose a password. Make sure that your contact number is correct, as eBay may want to verify your identity. You will also have to agree to eBay's User Agreement and Privacy Policy.
Linking Your Account to PayPal
PayPal is eBay's preferred payment method. It keeps buyers' card or bank details secure when they are making purchases, giving them peace of mind.
You will need to sign up for a PayPal account (if you don't already have one) separately from your eBay account. In addition to your personal details, you will also have to provide PayPal with your bank account details so they know where to deposit funds. Part of this process is phone verification; alternately, they may send a small payment to your account and ask you to check it has arrived via your online banking account.
To link your PayPal account (new or existing) to your eBay account, sign in to your eBay account and click on the Account tab, followed by the PayPal Account tab. You will then see a Link My PayPal Account button. Click this, and enter your PayPal login details when prompted. Your two accounts will now be linked.
Once both your eBay and PayPal accounts have been verified, eBay will allow you to list products on their international sites, and may provide you with a higher seller limit. PayPal will increase your sending and withdrawal limits, and you will have increased credibility with eBay buyers.
Writing Your Q&A
eBay buyers expect their questions to be answered quickly. You can minimise your response time and workload by setting up automatically generated answers to certain questions, such as "Do you accept returns?", "How long does UK delivery take?" and "Can I collect my item in person?" It is worth taking the time to do this before you add your first product listing, and make sure that the answers are applicable to as many products and scenarios as possible. Remember that if the answer does not fully answer the buyer's question, they will still contact you for more information. Respond quickly and on an individual basis.
Tackling Product Research
What should you sell on eBay? You have seemingly infinite choices, but SaleHoo is on hand to help you. Using SaleHoo's Market Research Lab, you can identify products that are currently selling well on eBay and see what kind of profit they are likely to make you. Once you have selected your product (or products), you can buy them from wholesalers in SaleHoo's directory, confident in the knowledge they have already been vetted.
Creating Your Listing
You are now ready to add your first product listing to eBay. Every product you want to sell on eBay must have a unique listing, and as this is your advertisement to the world, it is worth taking the time to get it right. When you first start selling products on eBay this may well be one of the most labour-intensive tasks you do, but it will become faster and easier once you have practised.
The two most important characteristics of an eBay listing are that it is eye-catching and informative. It should be eye-catching to encourage would-be buyers to look at your product, and informative so that all the information the buyer needs is in a single place, reassuring them that the product you are selling is the one they need and want.
The most important aspects to catch a potential buyer's attention are your product title, and the images you use to sell it. Pick a title that is short and catchy but that says exactly what you are selling. Rather than saying, "New Apple iPads that I have bought from China and am selling at a really good price," advertise your product as, "Brand new iPad 2 32GB Wi-Fi"
When it comes to pictures, you have a number of options. The manufacturer or wholesaler may well provide images that you can use for publicity and sales purposes, and they are suitable for brand-new products, especially if you have multiple units of the same thing. If the manufacturer or wholesaler does not provide you with images, and what you need is not available with a creative commons license, you will need to take your own product photos. If you are selling an item that is second-hand or that has some damage or defect, you should also supply your own images of the specific item you are selling.
You don't need a professional camera to take good photos for eBay: a good quality smartphone or point-and-shoot will be good enough. There are, however, a few things you can do to improve the standard of your photography.
Photograph your item against a white or neutral background;
Make sure there is plenty of natural light;
Keep your camera steady by resting it on a table or tripod if it will stop your hand shaking
Include photos of any scratches, dents or discolouration (for second-hand items);
Take several photos from each angle and only upload the best images.
If you are going to edit your photos using Adobe Photoshop or another software, you should only use it to crop the background out of the image, re-orient it, or correct the lighting. Do not make any changes that could mislead buyers, or you could later be accused of deliberate misrepresentation.
Regarding the information you list about the product, you should express your points clearly and succinctly. Think carefully about the details the buyer will want to know. You should include the product specifications, an indication of what it is suitable for (if applicable), and its condition. Look at other similar listings for inspiration (but never copy verbatim from someone else). You can use bullet points to draw attention to specific pieces of information, but don't get too carried away with this, or your listing will look messy. Don't forget to mention whether you offer shipping discounts for buyers ordering multiple items. Tell buyers if the item is available in different colours, designs or sizes, if you also sell compatible items, or if your product is part of a matching set.
Determining Your P&P Options
When you are pricing your products and writing your online selling plan, don't forget to factor in the delivery prices for different destinations. eBay offers a helpful online tool for you to estimate the postage costs, but you will need to enter the package's weight, dimensions, destination country, and, if you want it to be insured, the value. You will be given different delivery time options at different prices; you can offer more than one option to your buyers.
If you are hesitant about handling the paperwork for international delivery yourself, eBay does offer a Global Shipping Programme. If you use this system, you will only need to send your products to a UK-based service centre, and they will then fill in all the requisite forms and deflations, and forward it overseas on your behalf. You pay only for postage to the service center; eBay will collect the international delivery fees directly from the buyer.
Make sure that your stated P&P fee covers not only the postage or courier costs but also the cost of the packaging materials. For small, low-value items, use an envelope or small padded envelope. For larger or more delicate items you will need to provide bubble wrap or other protective materials in addition to a sturdy box. Buying such items wholesale (consult SaleHoo for reliable, affordable suppliers) is more cost-effective than buying them one at a time from a local store or supermarket, and you will always have materials ready for when you need them. Using quality packaging that looks good and protects your products in transit will give customers a good first impression of your product, and consequently it will improve your customer service rating.
Managing Your Account
Once you are set up and making sales, you need to manage your account. You should make sure that your contact details remain up to date in case buyers need to contact you, and respond promptly to their queries. Send products out in a timely fashion.
The feedback you give to buyers, and which they give to you, is an important part of the buyer-seller relationship. The star rating and comments you receive for each transaction will be displayed for future shoppers, and in part inform their decision to buy your products.
You therefore need to make the buyer experience as positive as possible, and swiftly and professionally respond to any complaints. If a product arrives damaged, or the wrong item has been dispatched, take responsibility for the mistake and either ship a replacement product or refund the buyer in full, including the shipping charges. This level of customer service will leave you in good stead in the long run.
In your eBay account, you will find a summary of all your past transactions, including the sale prices you have achieved at auctions. This is an invaluable resource, so look at it regularly. Compare your prices with your original estimates to make sure your online business plan is on track. Be prepared to update your plan if necessary. If a particular product is selling particular well, consider stocking similar items: browsing relevant SaleHoo categories will give you ideas about what else you can sell.
Your eBay Checklist
Sign up for an eBay seller account
Sign up for a PayPal account
Link your PayPal account to your eBay account
Write your Q&A
Research potential products on SaleHoo
Create your product listing on eBay
Add high quality photos of your product
Determine your P&P options
Give feedback to your buyers
Build a positive seller reputation
Consult your sales summary regularly